The country is watching — and if politicians get away with imposing these new burdens on people seeking safe and legal abortion in Missouri, other states will follow. It has to stop here.
Pretty women wonder where my secret lies.
I'm not cute or built to suit a fashion model's size
But when I start to tell them,
They think I'm telling lies.
I say,
It's in the reach of my arms,
The span of my hips,
The stride of my step,
The curl of my lips.

I'm a woman
Phenomenally.
…
Cecile Richards, President of Planned Parenthood Action Fund, responds to the Missouri legislature that passed a bill to require women to wait three days after seeing a doctor before they can obtain an abortion.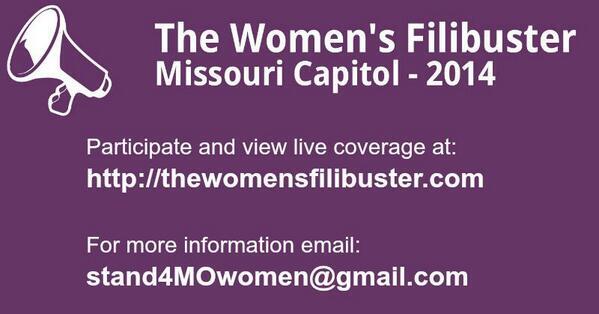 Hi everyone!

I just wanted to ask for everyone to please root and cheer for the women in Jefferson City right now who are filibustering the 72-hour abortion mandate with their own 72-hour filibuster. Missouri is my home, and I want everyone to know how much this filibuster is important not only…
Taking a cue from former Texas State Sen. Wendy Davis (D), hundreds of Missourians are in the midst of a 72-hour "women's filibuster" of a state bill that would triple the mandatory waiting period before an abortion. Starting at 2 p.m. o…